Thoughts on Maryland's Latest Uniform Abomination
Give credit to Maryland on the gridiron, as they thumped Syracuse last Saturday.  But those darn uniforms from a few weeks ago with the Star-Spangled Banner on them… the Confidential still cannot get over it.  Just… look … at this abomination: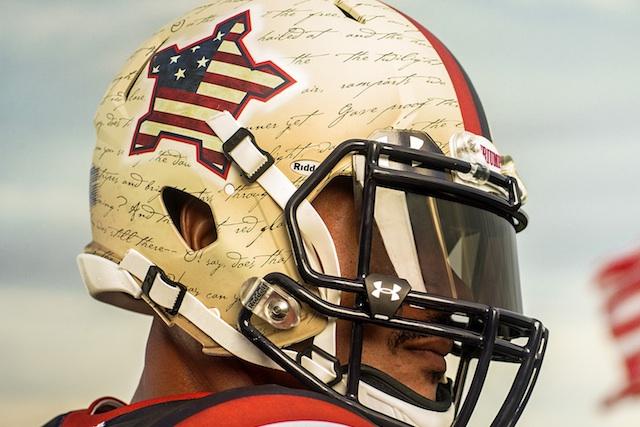 Even the shoes.  Essentially tramping our national anthem!  But it does make you wonder whether any other schools will rush to copy Maryland's use of the written word on its uniform.  And how.
The Constitution was written in Pennsylvania, so maybe Pitt could use that.  And Virginia could claim the Declaration of Independence.
Perhaps Boston College and Notre Dame could find some sort of biblical passage to put onto their uniforms (hopefully not the cleats).  However, the biblical message is not quite the same.  As if the Beatitudes belong on a football field!  One would have to think that it would be some Old Testament fury.  Imagine BC wearing the story of David & Goliath before the next Florida State matchup:
48 As the Philistine moved closer to attack him, David ran quickly toward the battle line to meet him. 49 Reaching into his bag and taking out a stone, he slung it and struck the Philistine on the forehead. The stone sank into his forehead, and he fell facedown on the ground.

50 So David triumphed over the Philistine with a sling and a stone; without a sword in his hand he struck down the Philistine and killed him.

51 David ran and stood over him. He took hold of the Philistine's sword and drew it from the sheath. After he killed him, he cut off his head with the sword.  [Source.]

Hey, that could actually work.  Pretty inspiring stuff.  Again, let's keep it off the cleats though.
Not sure what Notre Dame could do though.  They are usually Goliath.  Except when playing Alabama, of course.
Syracuse and Miami are each in the top 20 of private schools by Jewish population.  Perhaps some more Torah/Old Testament fury.
What could other schools do?  Give us some ideas…